Invite Magic into your Everyday
I create distinctive designs inspired by the incredible shapes, textures, and patterns found in our Universe.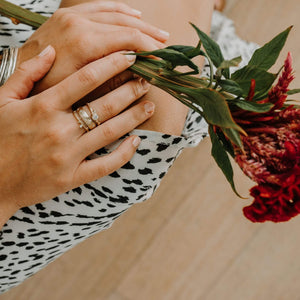 Values
Equality and inclusion. Space and love for all. 
Leia Zumbro jewelry believes the pursuit of beauty should never come at a cost to others, which is why I am committed to equality & environmentalism. I am constantly learning and striving to do better.
Sustainability
Leia Zumbro Jewelry works constantly to be as environmentally friendly as possible. All metals are 100% recycled. Packaging is recycled and recyclable. I choose conflict free stone sources and recycled stones. Studio chemicals are kept to a minimum and the most natural solution is chosen. All pieces are hand made in the St. Louis studio & storefront.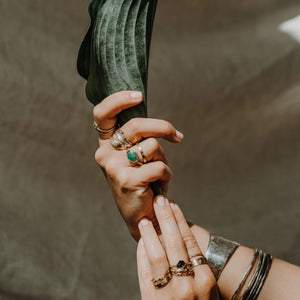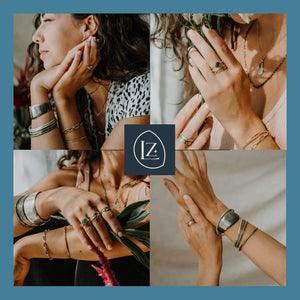 "My work draws inspirations from the botanical and celestial. Seed & vine, Stars & moon."
I love to collect interesting bits from a walk, I am constantly surprised and awe struck by the strange things that grow on this planet we inhabit. 
The shapes, textures, and patterns revealed upon close inspection of our environment are inspiring. I translate those into my work creating wearable sculptures, drawing from these awe inspiring moments of natural discovery.
"I like to think of the ensuing jewelry created as talismans- to our planet and its wonders, to the moments of excitement and discovery in our lives, and to imagination and play."
My Story
I attended my first metalsmithing and jewelry making course as a teen. While earning my first Fine Arts degree in jewelry, I began a 6 year apprenticeship working with a local jewelry maker, then continued onto earn a Masters in Jewelry. Since then, I have studied with Master stone setters and engravers to broaden my knowledge and techniques. All of my pieces start with the hand- hammering, piercing, texturing, sawing, graving, they all bring my raw yet refined pieces into being. I grew up in the lushly wooded hills of Missouri and the big skied desert of Arizona, both greatly influencing my draw to the natural world.